Build-to-suit
Case Study
FLUOR CORPORATION CORPORATE HEADQUARTERS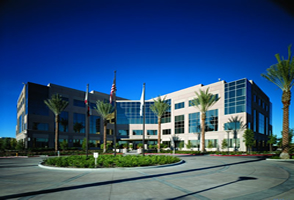 Fluor Daniel Dr.
Aliso Viejo, California
Size
575,000 square feet
Project Type
Three and four-story Class-A office buildings in a campus style setting
Program Elements
575,000 rentable SF
32 Acres
4 parking spaces / 1,000 SF
6 buildings on 2 sites
Central courtyard, cafeteria & health club
Financing & Development Services
Site Acquisition Services
Structured Leaseback Financing
Project Schedule
Acquisition: 1998
Completion: 1999
While previously employed with an institutional development firm, a principal of our firm was a key member of a team selected to develop this 575,000 square foot corporate headquarters facility for the Fluor Daniel Corporation. The project was completed in 1999 with Fluor Corporation serving as its own general contractor. The project, which features six buildings on two separate sites acquired from the Mission Viejo Company, fronts the 73 toll road in Aliso Viejo, California and is adjacent to the San Joaquin Hills Transportation Corridor.
The facility is designed around a functional central courtyard and features a cafeteria and health club. Floor plates range from 22,000 to 27,000 square feet in three to four-story buildings comprised of steel and EIFS.
The largest built-to-suit development in Orange County during the 1990's, Fluor's Headquarters was financed utilizing a synthetic lease. Construction began in early 1998, with occupancy by Fluor Daniel in the summer of 1999.